How to make wedding guests happy is the questions that we seem to answer many times. We all know that a wedding is all about celebrating the married couple, but even though your wedding day should only revolve around you, it's important to put the needs, comfort and joy of your guests as a priority.
On your wedding day, guests are more than just guests they're the life of the party and the ones that truly can create an unforgettable atmosphere. We've highlighted four essential basic ways to make your guest more happy and comfortable. Without the following, your guests may feel uncomfortable and can easily create a weird environment which isn't pleasant for anyone, not even yourselves.
Good Food
Food should be a priority on your wedding list; there are many reasons as to why, but luckily due to our local culture and love for food Maltese couples tend to put food at the top priority as a cultural nature.
The kind of food you choose for your wedding day is totally up to you and your budget, but it's important to try to understand what your guests usually eat. This will be able to give you a good indication of the type of food. Without a doubt, if your budget can't cater to certain likings, we suggest going for something more within your budget.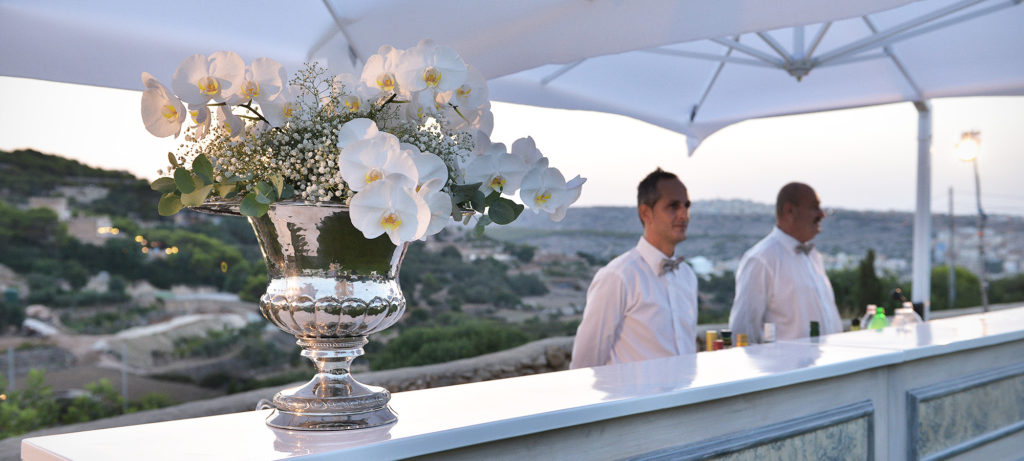 Drinking
Many Maltese and certain destination weddings always try to ensure there's more than enough. Alcohol will turn your average gathering into an amazing party, full of laughs and continues dancing. So if you're looking for a good way to make your wedding day more fun that guests will remember for a very long time we suggest setting up an open-bar.
If you're planning to have many guests, we also suggest having multiple bars to ensure that it's easier and less time consuming to get a drink.
Comfort
When it comes to comfort, you'll have to think about your location, weather, temperature, seating, and more.
For cold weather, we suggest giving blankets and setting up heaters.
For warm weather, we suggest setting up tents and fans. There are many more things to do to ensure that your guests are comfortable and happy so think about the typical day at your wedding date and ask yourself, what I would do to be more comfortable and do that.
Entertainment
A wedding is all about having fun and celebrating with the newly married couple, and there's no better way to celebrate it other than with a crazy and packed dance floor, everyone knows each other and simply having the time of their lives.
Even though it might sound easy to achieve, it's one of the most brain wrecking things you'll have to figure out while planning your wedding. Fortunately, we've gathered a list of Alistair's Favourite Wedding Planners, giving you a professional helping hand while countering such difficult moments.
Just like food; knowing your guests would help you plan a more appropriate kind of entertainment. As crazy as it may sound, not everyone likes the same type of music as you do. It's important to mesh it up very well with different types of music and if you're planning to have a band make sure they're interactive with the crowd, to liven up the wedding.
There are also other ways to make your guests entertained through games, comedians, videos, etc. Whatever the case is, it's important to know your guests as it would be able to give you a better understanding of what and what not to add as entertainment.
Bonus – Beautiful Floral Designs
We know that this will not directly affect the happiness or comfort of your guests, but imagine walking into the reception as a guest admiring the beauty of the floral designs, will surely create a happy feeling and something to talk about.
We meet many guests of weddings that we've catered for at our seasonal shop and during a Complementary Floral Consultation all have the same words, "we simply couldn't stop talking about the flowers".
This showed us, how beautiful flowers do more than create a wonderful atmosphere, they encourage conversations with one another.
Everything will make a difference on your guests' comfort and happiness, but the most important thing is that you plan well and always try to be on the lookout for anything which may reduce your guests' comfort.
We've been in the wedding and floral industry for more than 20 years now, and we've gained a lot of knowledge which will help you when planning your wedding. Don't be shy to ask us even if it's not within our area we still might be able to help from certain past experiences.
We hope that we've helped you answer your question on how to make wedding guests happy. If you have any questions about the type of wedding flowers, or how to choose your flowers, make sure to contact us or leave a comment below.