Christmas trees have been around for many years and for many of you all Christmas decor evolves around the Christmas tree and more importantly the Christmas theme. Don't have a Christmas theme? Find out how important it is to decorate with a Christmas theme here.
We source all our Christmas products and fresh flowers from the most reputable suppliers from all around the world. This ensures that when you're buying from Alistair Christmas Shop you're buying premium Christmas decor.
The below Christmas trees don't represent our entire Christmas tree collection as we have many more at our Christmas Shop in Birkirkara (Get Directions)
Poly Frosted Colorado Hinged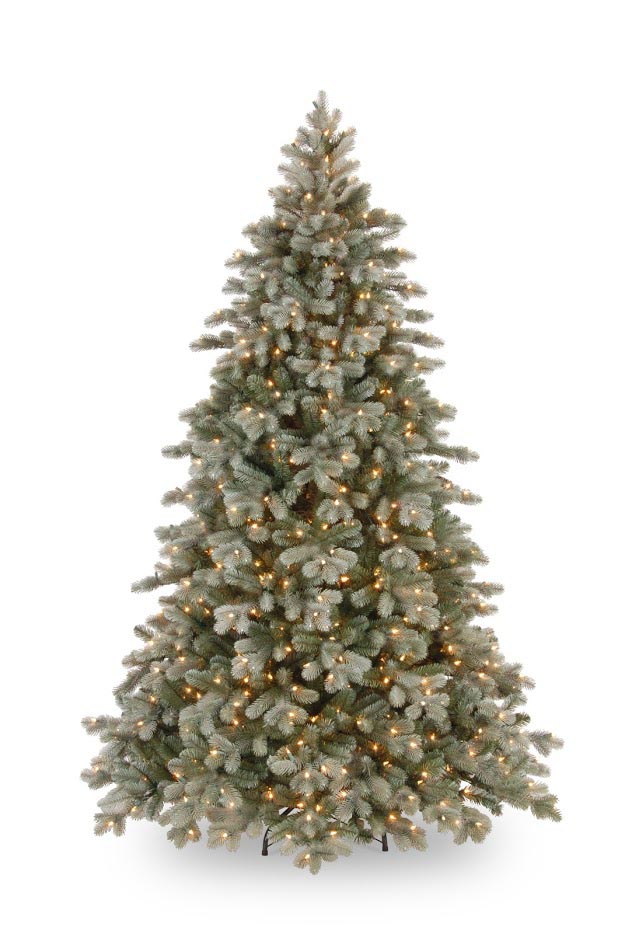 The Poly Colorado Hinged is a frosted Christmas tree. Created with a combination of a touch of glitter to get that shiny feel of frozen snow and light debris of snow.
The Poly Frosted Colorado Hinged Christmas tree comes in two sizes 213cm and 228cm, both of which are pre-lit for more comfort and easy setup.
Snowy Sierra Hinged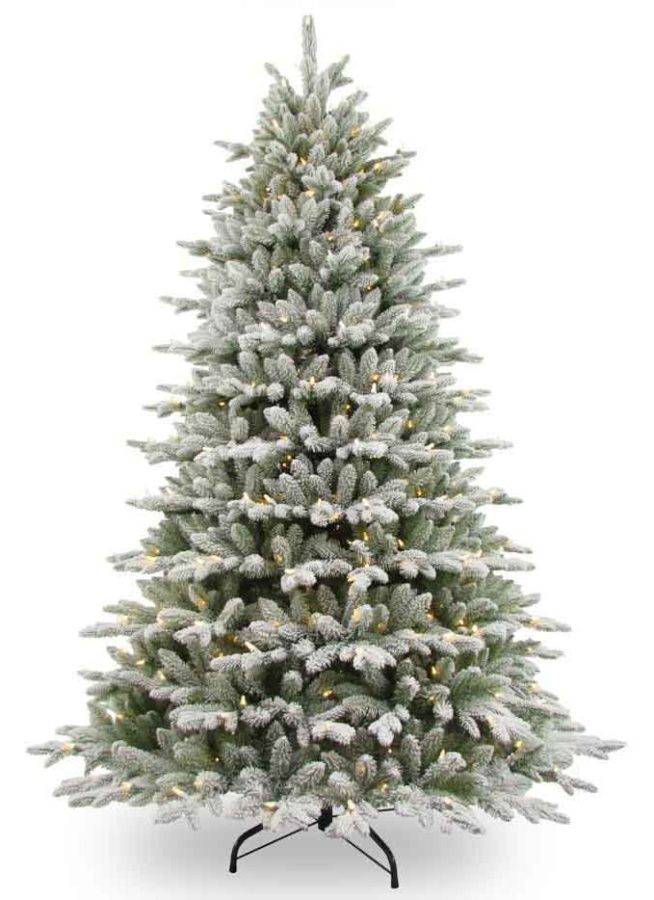 As you've might have already noticed this tree is a snowy Christmas tree. The Christmas tree isn't completely covered with snow, and therefore it gives a different type of effect.
These kind of Christmas trees are always in demand as Malta's weather is different from the usual cold and snowy Christmas we see on TV and movies, and therefore such Christmas tree puts you right into a Christmas wonderland. If you think of Christmas and instantly go for cold weather, we highly suggest taking a look at Ice Adventure Christmas theme.
The Snowy Sierra Hinged comes in three different sizes; 183cm, 213cm and 228cm, the tree also comes in pre-lit with warm-white LEDs. If you're looking for a snowy Christmas tree but not pre-lit, we suggest visiting our Christmas shop to view our full collection of Christmas trees.
Iceland Fir Hinged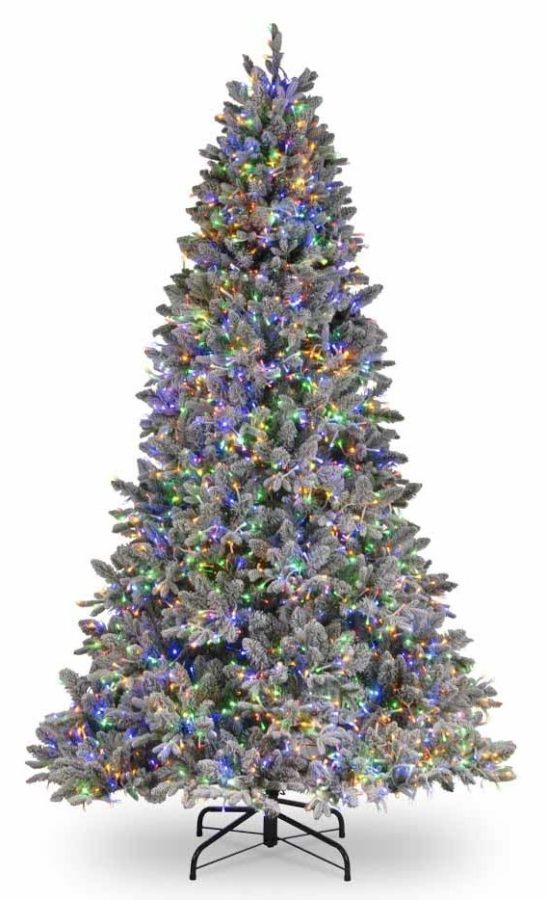 The Iceland Fir Hinged is a full-snowy Christmas tree with limited to no greenery showing. Its design has been specially created to sustain multi-coloured LEDs and other warm-white and cool-white combinations.
Some black or dark hues Christmas décor with some gold can create a beautiful contrast against the coloured LEDs and snow, but in reality, most colours and themes will fit very well with Iceland Fir Hinged.
The Iceland Fir Hinged comes only in one size 213cm and pre-lit. Its unique design, lighting capabilities and fully-snowy makes it one of our favourite Christmas trees, visit our Christmas shop to see its true beauty.
Glitter Bristle Slim Hinged
The Glitter Bristle Hinged is a slim or also known as pencil Christmas tree. This sort of design is ideal for small apartments and offices with limited space.
Its shape is very narrow, and the branches don't open as much as traditional Christmas trees, even though the design is relatively new within the Christmas industry its still a highly demanded Christmas tree, which is why we've sourced an abundance of slim Christmas trees with different finishes including; standard green, grey, snowy and frosted.
The Glitter Bristle Slim Hinged comes in 3 different sizes; 183cm, 213cm and 228cm, all of which are pre-lit with warm white LEDs.
Dunhill Fir Blue Hook
On the image, it's not the best looking Christmas tree, but in reality, it's a fantastic Christmas tree with a splendid look, and a truly unique design both in terms of shape and colour. The Dunhill Fir Blue Hook is a greyish/bluish/greenish Christmas tree.
This Christmas tree stands out from the rest as you can easily create beautiful contrast using a variety of decorations and colours. We highly suggest visiting our Christmas shop to view its true beauty.
The Dunhill Fir Blue Hook comes in 5 sizes; 183cm, 210cm, 228cm, 243cm and 274cm. We stock a large variety of different Christmas lights making it easier to choose the perfect light for any Christmas tree or décor. If you're unsure of which type of lights to use on this Christmas tree, we suggest taking advantage of our NEW exclusive service of Complementary Professional Christmas Décor Advice.
Montreal White Spruce Hinged
The Montreal White Spruce Hinged is the classical "Snowy Christmas tree". The Christmas tree does not represent any natural occurrence of a tree; like the frosted or snowy Christmas tree.
If you're into white, this Christmas tree is perfect for you, and if you haven't selected a specific Christmas theme, we highly suggest going for the Pink December as it will look just lovely. The best thing about this Christmas tree is that due to its all-white colour you can practically put any Christmas décor colour and will still look fabulous and achieve the perfect contrasting element.
The Montreal White Spruce Hinged comes in 2 different sizes; 210cm and 225cm, both of which are not pre-lit.
Tiffany Hinged
If you're mentioning Christmas trees, you must mention the classical green Christmas tree. The green Christmas tree is most probably one of the most demanded Christmas trees as this has been a staple for a very long time.
We have many different types of green Christmas trees all of which are unique in their separate way, some with a different shape, branches and colour hues, all of which are exclusive to our Christmas shop. So if you're looking for the perfect classical Christmas tree, there's no better place than our Christmas shop for a large variety and premium quality.

If you're thinking of purchasing a Christmas tree like the Tifanny Hinged, we must suggest taking a look at the Santa All Around The World, and Christmas Rituals Christmas themes.
The Tiffany Hinged Christmas tree comes in 3 sizes; 274cm, 305cm and 366cm all of which aren't pre-lit, but we do have classical green Christmas trees which are pre-lit.
Are you looking for something different?
We couldn't feature all our Christmas trees because it would take you hours reading this post. If you have something else in mind we most probably have it in stock. Visit our Christmas Shop for more inspiration and Christmas trees! We are open all week from 9:00 am till 7:00 pm, including Sundays and Public Holidays.