Decorating a wedding cake with a lovely floral design is a trend which we love and seems to be catching up not only for weddings in Malta but all around the world. We've decorated thousands of wedding cakes throughout our 20 years plus experience, and one thing we know for a fact is that all are unique in their beautiful way.
Simplistic White Floral Cake Decor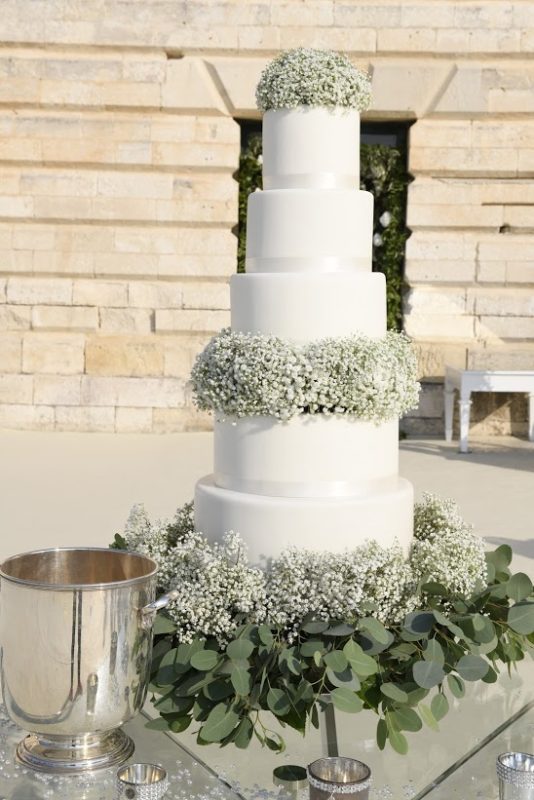 If you love natural white weddings, you'll love this five-tiered wedding cake. The design its self is simple using a combination of only gypsophila and eucalyptus.
We've added the eucalyptus at the bottom to create some contrast between the first layer of gypsophila and the glass table. We didn't continue with a combination of gypsophila and eucalyptus because the couple wanted a more elegant and slim wedding cake.
If you loved the simplicity of this floral cake design, you're going to fall in love with the rest of the floral designs created for this wedding.
Colour Complex Cake Design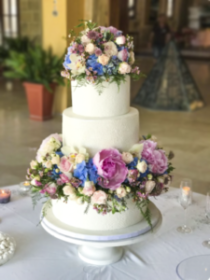 When it comes to adding colour to your wedding venue, we're always up for the artistic challenge. Throughout our 20 year experience in the industry, we've created hundreds of weddings with a unique and vibrant colour combination.
For this floral cake design, we've used a mix of peonies, roses, spray roses, garden roses and orchids with natural colours of cream, pink and blue, with some fern at the bottom to create contrast between the flowers and the cake. Make sure you learn about the type of wedding flowers used for weddings in Malta
Purple Cascade Design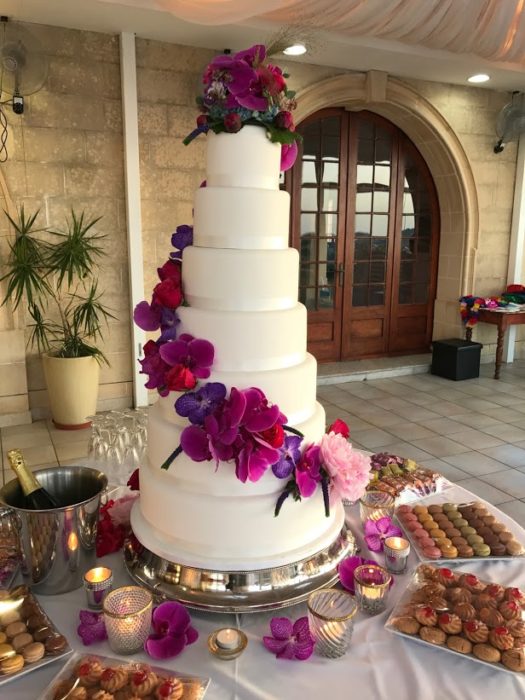 If you love pink and purple hues you will fall in love with this beautiful cascading floral design on a majestic seven-tiered wedding cake.
The cascading effect starts from the top tier and goes all the way around the wedding cake allowing a nice flowy feel with the use of the cascade effect rather than the use of foliage.
Olive Foliage Floral Cake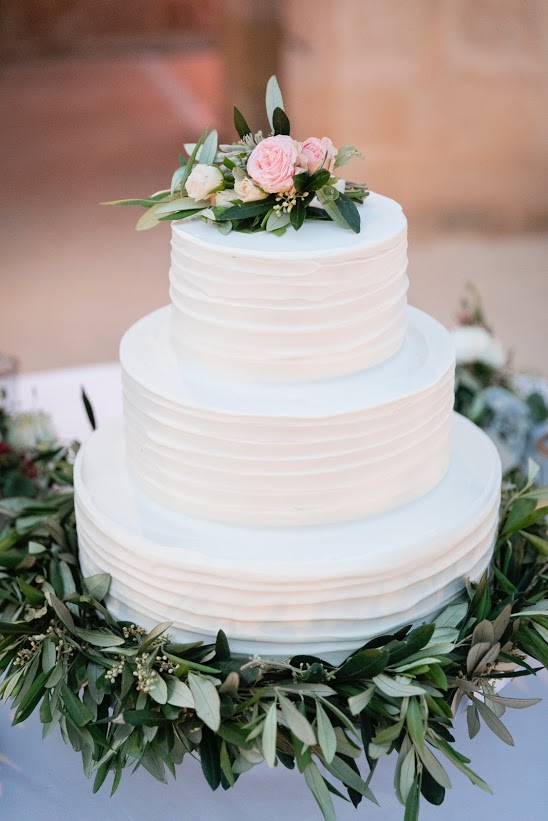 We've been using olive foliage for different floral designs for quite some time, especially for couples getting married in Malta from abroad, who'd like a Mediterranean touch.
Apart from the Mediterranean theme, we've added the olive foliage to create a flowy effect to the cake while also making the cake look bigger. At the top, we have also created a nonstructural design complementing the bottom of the floral cake design and the rest of the floral designs with a blush pink rose.
In general, the floral cake has a nice flowy and simplistic, from the foliage and flowers we've used to the icing design. So if you're looking for a nice flowing and Mediterranean wedding cake design, this will be a great addition to your mood board.
Pink Floral Cake Cascade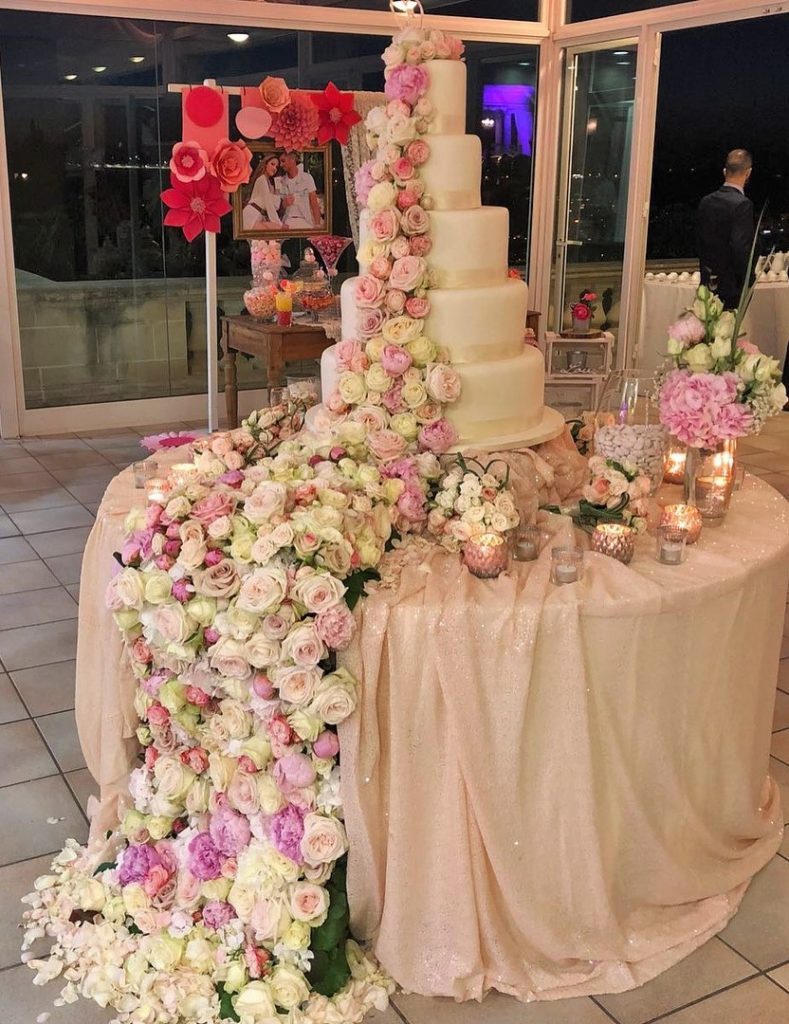 This specific wedding cake design wasn't created for a wedding during 2019 but the beautiful floral design you have to mention it. The floral cascade has been possible using a range of various flowers with different shades of pinks, whites and creams. The colours of the floral cake design aren't cohesive and randomly put with the white and cream flowers to allow more contrast between the pink shades.
Timeless Elegance Floral Cake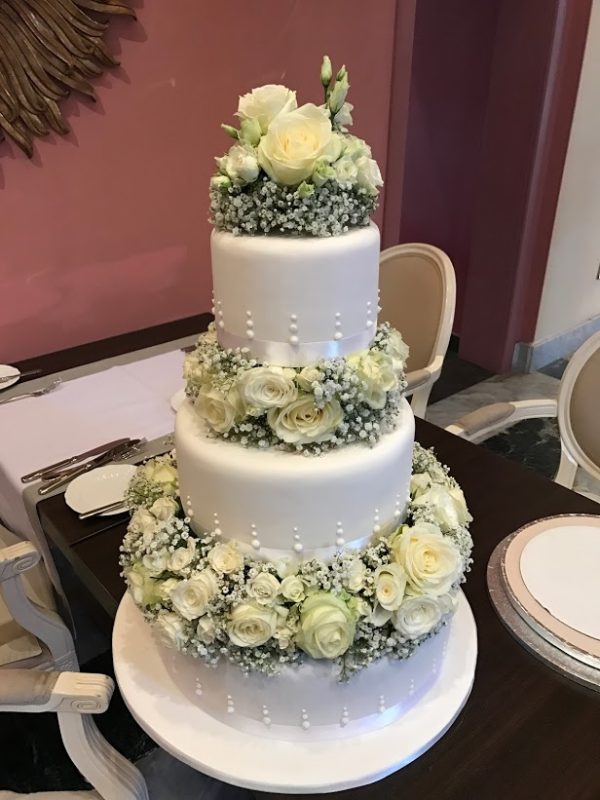 We've already featured an all-white wedding cake, but to the contrary of the other cake, this one is more based on a traditional wedding cake. Many Maltese couples love the white and classic look as it may symbolise a particular wedding they've attended which they loved or simply because it's timeless and goes perfectly with an elegant wedding theme.
To create such an elegant cake design, our florist has utilised a mix of cream roses and spray roses with some gypsophila and no foliage to ensure we keep to the theme of timeless elegance.
View more wedding cakes
The above five wedding cakes are just a few from the many wedding cakes we have created throughout the wedding season of 2019. Without a doubt, we're sure you must want to view more wedding cakes which is why we continuously update our portfolio with different wedding cake styles, bridal bouquets and more.
If you're still trying to figure out which style is best for you or which flowers to choose for your wedding day we suggest meeting up with Alistair for a complimentary floral consultation.