Year after year we are entrusted with hundreds of different events, private parties, weddings and corporate activities all of which are decorated beautifully with a unique floral theme which makes them stand out from the rest. This year to commemorate the end of 2019 we have created a blog highlighting some of the weddings, events, private parties and photoshoots created during the year.
Events & Parties
Corporate and private events are as important as much as a wedding, the time and dedication it takes to set-up such events is extremely amazing and with our touch of florals, we're able to transform any venue into a magical scene.
40th Anniversary of the Mediterranean Conference Centre
The first big event from 2019 was the 40th Anniversary of the Mediterranean Conference Centre, the flowers and amazing stage-up were talked about on many different Media all around Malta and Gozo. Alistair was also invited on live tv during Wara Nofsinhar to talk about setting up for such an important event whilst also discussing the difficulties.
"I would like to thank Alistair Fenech and his team for embellishing the MCC with such an amazing creative arrangements. MCC sparkled and shone throughout the evening and the days that followed and was truly in its full splendour. You and your team are truly dedicated artists with a real passion for the work you do, we are indeed grateful for the success of the 40th Anniversary of the Mediterranean Conference Centre."

Rosette Micallef the Head of Sales & Marketing
President Swearing-in Ceremony 2019
Another prestigious event which we had the pleasure to create lovely floral designs is the President Swearing-in Ceremony. The ceremony was done at the beautiful Grand Masters Palace in Valletta and was decorated with beautiful white floral designs with a touch of red.
Alaria Influencer Brunch –Official Launch
The Alaria Influencer Brunch was at Villa Corinthia one of Alistair's favourite venues. During the Alaria Influencer brunch, many local influencers including Melissa Gatt, Kristina Zammit & Madeline Baldacchnio have shared numerous of stories, blog posts and photos highlighting Alaria Community as a brand and the ethically sourced clothing lines. If you would like to learn more about Alaria Community and how they're making a difference in the world click here.

Alaria Community is an e-commerce and local clothing shop which only sell ethically sourced products from artisan communities from all around the world, whilst also helping our planet by planting 5 trees for every purchase.
I am truly grateful for what Alister produced for me. From the choice of plants spread all over the room, to the greenery on the table that merged beautifully with the food, the flowers in the goody bags and the bamboo rails Alister created; he truly brought my vision to life. He is incredibly patient and understanding, and working with him was an absolute pleasure. He completely grasped and understood the exact style I wanted, and his choice of flowers were the perfect fit for the bohemian theme I envisioned. I can't thank him and his team enough.

Rebecca Pisani Alaria's Founder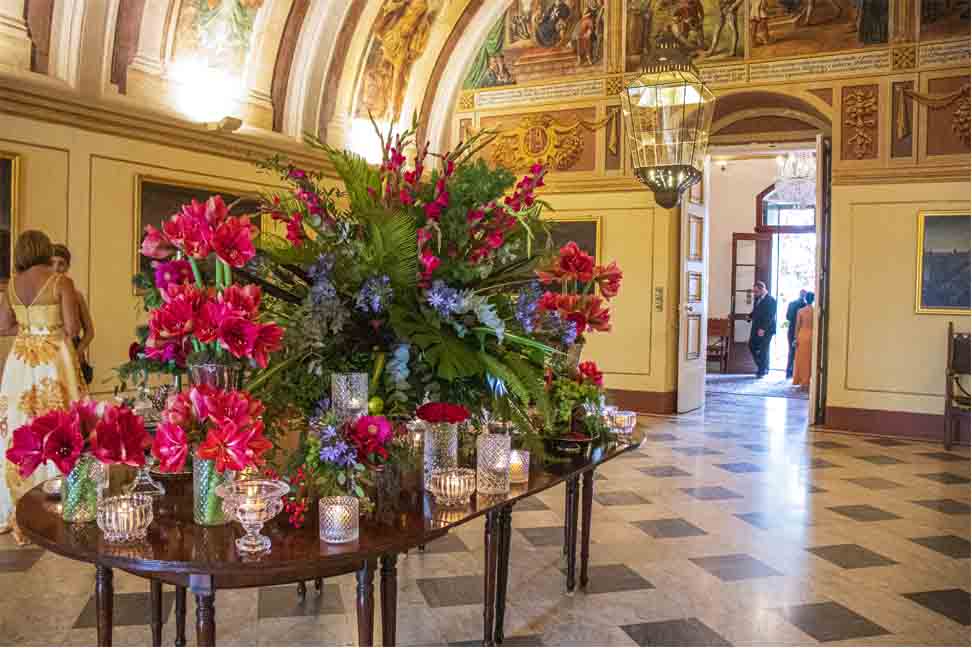 The Ball of the August Moon
The Ball of the August Moon has been planned by The Malta Community Chest Fund as part of one of their many events to help raise funds for people in need. During this prestigious event, many important people have attended including The President of the Republic of Malta.
Last year we have also been entrusted with the August Moon Ball 2018. This year we have created beautiful floral designs using fresh fruits, pink flowers, chillies and much more, we've received much positive feedback from the guests at The Ball of the August Moon 2019 and everyone seemed to truly appreciate our floral designs and dedication.
Weddings
Year after year the amount of weddings in Malta and Gozo are always increasing and not only from local couples but also from all around the world, making Malta one of the best wedding destinations. We have catered for many big and small weddings. We've compiled a list of this year's most impressive weddings according to the overall look and most importantly the wedding floral designs, but if you'd like to view more weddings we suggest taking a look at our weddings or our wedding designs.
Lara & William's Wedding
Lara and William's wedding will definitely be one of those weddings which our florists, as well as many of our followers, will remember for a long time. The wedding ceremony was at the St.Edwards College Chapel whilst the reception was celebrated at the beautiful Villa Bighi, both these places were dresses beautifully with a very popular colour scheme of timeless elegance with all white flowers and greenery. But the beauty goes well beyond the florals or any other materialistic décor, the beauty is in their wedding story which is truly inspiring for many.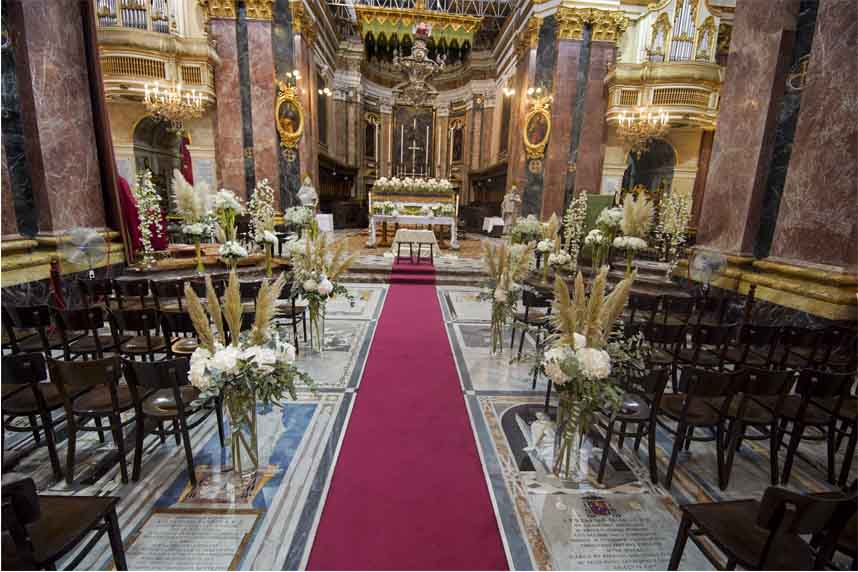 Taryn & Tia's Wedding
Taryn's vision for their wedding was truly astonishing and helping her make the vision a reality was a rewarding experience that I look back with much joy. We wanted to do something different from many weddings in Malta which is why we've decided to add the pampas for most of the wedding floral designs but still keep an elegant touch to it. The church ceremony was held at the beautiful Mdina Cathedral, followed by a wedding reception at a private residence, which also was decorated beautifully with lavishing floral designs.
"Working with Alistair was an experience in itself. He was very professional, passionate, he showed artistry and he showed an excellent understanding of what we wished to achieve. Alistair and his team managed to holistically embellish the church and venue together to create an exceptional floral canvas. The outcome exceeded all our expectations."

Taryn and her mother's comment after the wedding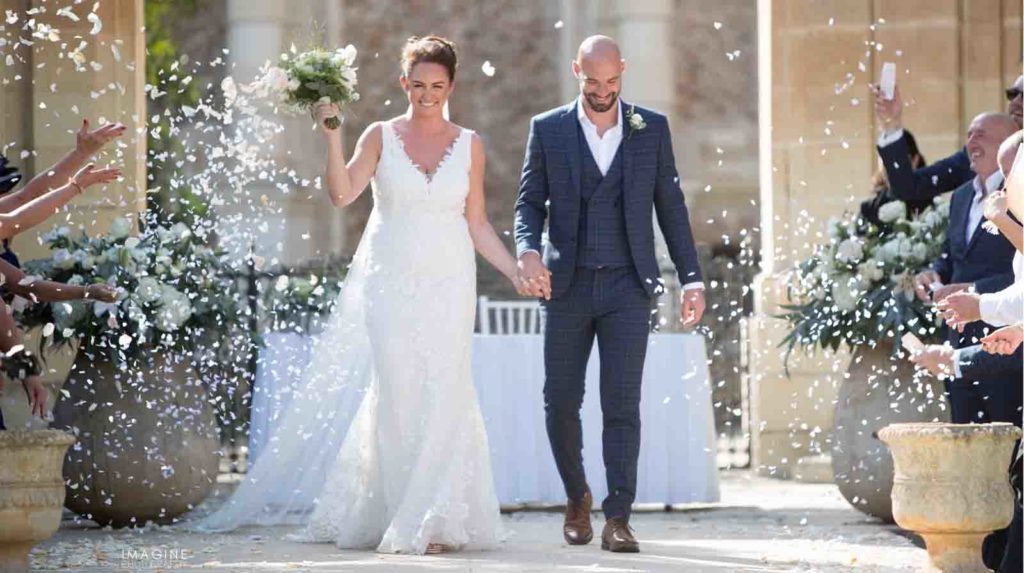 Destination Wedding
Destination weddings in Malta have increased drastically throughout these last few years, in fact, one of Malta's biggest wedding was a destination wedding. This year we had many destination weddings but one which stood out for us is Keighley and Matt's wedding which was planned by Bride & Belle Weddings which is part of our favourite wedding planners and organisers.
The civil ceremony was held at the beautiful Villa Bologna followed with a sit-down reception. The wedding floral designs theme we've used are mainly natural colours and a light touch of blush pink to ensure it fits perfectly with the Maltese wedding season.
Photoshoots
Every year we are featured on a number of local and international magazines as well as websites for both weddings and other events, therefore, it would be a shame not to mention a couple of photoshoots which we really fell in love with. We always love to showcase our beautiful flowers and floral designs and there's no better way to do it other than a photoshoot.
IDO Bridal Magazine Spring Issue
The IDO bridal magazine has contacted us to create stunning floral designs for a spring photoshoot. We truly love a spring wedding photoshoot as it allows us to work with an array of high-end flowers which bloom beautifully in different vivid colours. The photoshoot became very popular within the local wedding community and allowed many to get various ideas for their spring wedding. We really suggest taking a look at all the photos from the wedding photoshoot and get inspired by a beautiful spring wedding photoshoot.
Corinthia Caterers – Floral Trends
A couple of months ago we have been approached by Corinthia Caterers to discuss the upcoming floral trends for weddings in 2020. During the photoshoot and interview with Corinthia Caterers Alistair create a bridal bouquet and a wedding floral centrepiece as per the new floral trend. Want to find out more about the new floral trend and Alistair's interview, make sure to click here.
Bliss Magazine – Dark Romance photoshoot
Just like the IDO magazine photoshoot we have also been asked by Bliss Magazine to create the perfect wedding florals for their wedding feature and front page. The theme was dark romance and this has been perfectly executed with the complex design of the bridal bouquet and floral arrangement. For both florals we've ensured to complement the model, venue and most importantly the theme, which is why we've used a mix of neutral colours with a touch of dark-hued colours and a semi boho styled bouquet.
This year was filled with amazing weddings, events and achievements for our brand! We are honoured to have shared this list with our clients and followers and pleased with the abundance of trust for such important and memorable occasions. We're definitely looking forward to 2020 and can't wait to do this over again with new soon to be brides, corporate clients and collaborators.

Thank you for trusting Alistair Floral Design throughout our 20 years and more in the floral industry.
CATEGORIES: Events Weddings